Google is hosting an event on 29th October in New York. This is expected to be the release of new Android version as well as next Nexus device. According to alphabetical order what we have next is "K". So probably Android 4.2 will be named as "Key Lime Pie".
For the past few weeks WWW was flooded with rumors and leaks about LG made Nexus 4. There were pictures, specs and even tare downs. Most of those rumors were pretty consistent. So there is a high chance that Google will release this Nexus 4 on 29th.
The best thing ever happened to Android so far is Jelly Bean and it's project butter. It solved most of the common problems in Android and paved its way to beat famous iOS.
But still there is a room for improvement. As an Android user I'm looking forward to see something amazing. Here I go with rumors round up for Android 4.2 Key Lime Pie.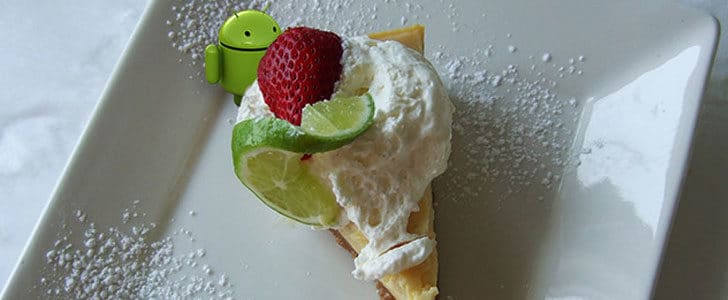 Expected Features
Project Roadrunner
This is one of the most rumored and most expected features in Android platform. Previous project butter made the UI transitions smoother and improved battery life up to a certain level. The objective of project roadrunner is to make Android platform even energy efficient.
Most of the Android handsets today have bigger, more than 2000 mAh batteries. The result is bulky and heavy handsets. Even with all theses, practically they last only a day. After project roadrunner, manufactures will be able to come up with lighter handsets with smaller battery that still lasts a full day. Existing handsets with large batteries will probably last for few days.
Quick Settings
Pull down notification bar is a unique feature in Android and adopted by many other mobile OS as well.  With quick setting they are going to make it even smarter. As usual you will be able to pull down notification bar. Then you will be able to pull down another customizable "Quick Setting" panel as well.
Extended Security
Security is a major issue in any OS. Android developers will pay close attention to this aspect as well. The main 3 improvement in Android 4.2 key Lime Pie would be SELinux, VPN Lockdown and Premium SMS conformation. Click here to read more about it on AndroidPolice.
New Gmail
Gmail app for Android 4.1 Jelly Bean is good but where is pinch to zoom? When you get a huge image or HTML email, it's a real pain to read it by scrolling around. By solving this problem Android 4.2 key Lime Pie will come with native Gmail app which has pinch to zoom as well as swipe to delete feature.
New Gallery
The gallery in Android 4.1 is pretty cool for me, nothing to complaint about. But they are going to improve it in Android 4.2. It will get more Google+ style look with this new UI revamp. There will be white strip down the album where it can display album name and some more information. Other than these UI alterations, entire operations would be same as before.
Wrapping Up
Out of all the above my personal favorites are project roadrunner and Gmail 4.2. I believe most of you guys will agree with me. I'm not sure whether I'd like quick settings or would it be unnecessary complexity. The feeling I have about the new Gallery is also pretty much same.
It's not time to judge the next Android 4.2 Key Lime Pie. We are one week away from it and it's going to be a long week for sure. I will talk more about it after 29th October.
Tags: #Android