iPad, the Apple's latest product which has announced to release this year. iPad is not a replace for any of the Apple products. It has more features like Amazon's e-paper Kindle.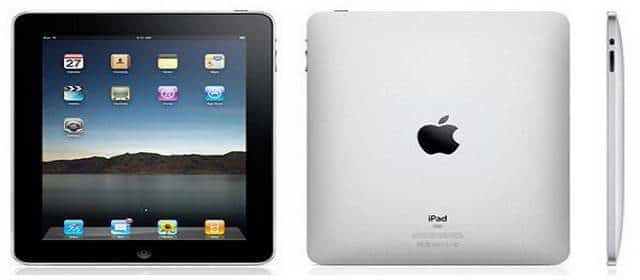 Specification and Features
Its operating system is similar to iPhone's operating system and has custom designed A4, Apple 1GHz Processor. It has 1024 x 768 resolutions, 9.7 inch LED touch screen, 1.5 pounds weight, 0.5 inch thin and it has around 10 hours of battery life as well. iPad has the fasters built-in 802.11n Wi-Fi connection, Bluetooth 2.1 + EDR and 7.2 Mbps 3G data speed. There are particularly designed games and apps available for iPad and an iWork suite which contains word processing, spreadsheet and presentation software especially for business use also announced. The starting price will be around $499 (16 GB). If you want to use AT&T connectivity, which is Apple recommended, another $130 will be added to the price. Apple's iBook the virtual bookshop is one of the main features in iPad. You can turn pages with a single tap in the right-hand margin.
In addition, you can have a bunch of photo album in your iPad, and when it's charging state, you can use it as a digital photo frame. Moreover, its high-resolution screen makes it perfect for watching any kind of video such as HD movies, TV shows and music videos. It has a unique YouTube app where you can easily navigate videos and organize videos. With the iPod application, you can browse, organize and listen to music with the powerful built-in speaker. The iTune store lets you to browse, buy music, TV shows or you can buy or rent movies with thousands of collections or you can sync with your Mac or PC to share the contents through iTune. There are around 140,000 applications available for iPad and you can easily browse, buy and download them from App Store.
The Google powered helps you to navigate with high-resolution satellite images where you can use your current location as well as you can get the directions. To taking notes, iPad has an onscreen keyboard and in landscape view, you can see your list of notes and the current one will shown win a red circle. From the Home Screen, you can have access to everything in your iPad in a tap and you can move apps around the screen in any order you want. Finally, the Spotlight Search allows you to search across iPad and its built-in apps.
Lack Of Functionalities
Even though iPad has the entire above-mentioned feature, it has failed some functionality as well. Due to lack of multitasking that means that you cannot listen to music while editing a photo. It's a major issue in iPad. It does not have a camera. Even the iPod nano has a camera, so a business product without a web cam or at least a normal cam. So no video chatting, no photo snaps. It does not include a USB port, so file transfer between other devices will be difficult and inconvenient. Users have to depend on a USB adapter. Most of the users never accept this. iPad doesn't support Flash. Which means you cannot view Flash embedded sites and applications. The main arguments against Flash running on the iPad are that it's a resource hog and a security risk, but the lack of Flash support is nonetheless a hindrance for users. While the iPad's display has been praised as crisp and sharp, its screen — LED-backlit with In-Plane Switching (IPS) — has its downsides. The iPad's screen is not as power efficient as OLED devices, which don't drain batteries as quickly. Moreover, LED screen tends to be harder on the eyes than the e-ink screens used on eReaders such as the Kindle. Apple has its own App Store for iPad and it has a lot of restriction on apps like no porn, nothing that infringes on the Apple trademark etc. The Free Software Foundation has already criticized the product, saying iPad is bad for freedom.
People have to think is it worth to buy this product for $500? Moreover, user has to depend on the iStore.  We can expect more features and bug fixed updates in future. However, for now its people have to decide do they really want to replace their current device to iPad.
References
(n.d). Retrieved on January 2010 from huffingtonpost.com: http://www.huffingtonpost.com/2010/01/29/apple-ipad-review-photos_n_441770.html?slidenumber=Dpqk1VkFkhM%3D&&&&&&&&&
(n.d). Retrieved on January 2010 from apple.com: http://www.apple.com/ipad/
(n.d). Retrieved on January 2010 from sindhtoday.net: http://www.sindhtoday.net/wp-content/uploads/2010/01/apple-ipad_tablet.jpg
See Also