We are only 2 days away from CES and I know all you guys are so excited to see lots of cool gadgets there. For the past few days I was talking about several android handsets expected to be released there. They are basically going to break the screen resolution barrier of 5 inch-ish Smartphone.
After HTC M7 and Sony Xperia Z, Today I'm going to talk about another 1080p Smartphone, LG Optimus G2. The original LG Optimus G was one of the most powerful Android handset in 2011 and I believe they are going to do the same again in 2013. Let's go and take a look.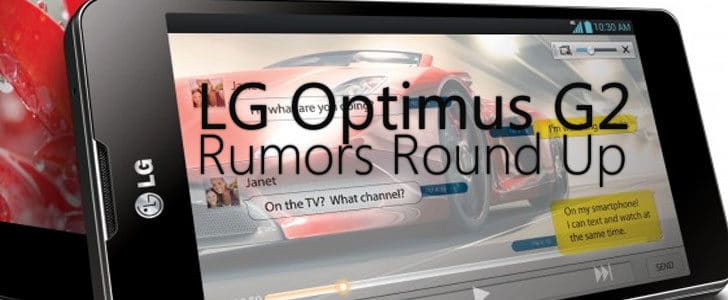 Shape of LG Optimus G2
The display of LG Optimus G2 is going to be a 5.5 inch, 1920 x 1080 px, 400ppi IPS panel protected with Corning Gorilla Glass 2. Another WOW display and it's going to be a huge phone, more a "Phablet". Some news source says that the display size is going to be 5 inch, the sweet point of 1080p Smartphone. We have to give to few more days to confirm.
About the internals, it's going to be the first appearance of Qualcomm Snapdragon S4 Prime chipset. It will be configured with 2 GHz Quad Core CPU, Adreno 320 GPU, 2 GB of LPDDR3 RAM and 16/32 GB internal storage options. Most probably it will come with microSD card slot.
As we know the best of SoC is Snapdragon S4 pro. But it supports CPU clock speed only up to 1.7 GHz. Snapdragon S4 Prime could go up to 2.5 GHz and 800 MHz RAM access speed. This is going to break all the speed barriers of mobile devices and crown a new beast of SoC.
This hardware platform supports all the connectivity technologies including LTE. So you will be able to enjoy all the high speed data access with many carriers.
It will come with a primary shooter with 12 MP sensor, latest optics, LED flash, 1080p @ 30fps video recording and all the other android goodness. Front facing shooter will be around 2 MP.
Most probably it will originally come with Android 4.1.2 JB and soon followed with 4.2 update. In most of the previous cases LG Phones could not stand out because of buggy themes they put on top of Android. I believe this time they will make a change.
The capacity of battery will be around 2500 mAh and it won't be difficult find space inside this huge phone.
Wrapping Up
There are many rumors about many phones with similar spec, but the magic here is it's power. Seems like it's going to break all the speed barriers we knew. And I believe 5 inch display would be better than 5.5 inch Phablet form factor.
Anyway it'll take only few more days for you to get to know the exact picture of LG Optimus G2. In the meantime tell me what you think about this device and it's expected spec.
Tags: #Android #LG #Qualcomm #Smartphone