Signature is a concept we inherit from analogue age to authorize a document. Today we are mainly using digital documents, but still there are some situations where we need signature on them.
There are several solutions. One, you can get a print out, sign it and mail (snail mail) or fax it to relevant people. It doesn't need a genius to say that it is not a efficient solution at all. Then you can use Adobe reader to add signature. There you can draw a signature or type it then add it in to a document. Yeah, this is a good solution.
But think of a document which needs to be signed by several people. In such a case none of those methods would be efficient. If you face such trouble, here is the solution to speed up document work flow.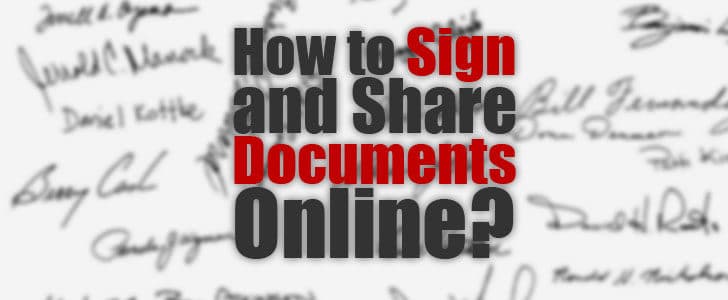 Getting Started with SignNow.com
SignNow is an online document signing and sharing tool. There you can upload a document, sign in and invite other people to sign it as well. Once you get all the signatures you can download the document as a PDF. Here is how to do it.
Go to SignNow.com and sign up by entering username and password.
It will take you to main app dashboard.
There you can upload a file to start with. Once you do that it will be listed there.
Take your mouse over the document and click open.
It will open up the document. Click wherever you need to sign.
In the pop up window you can either type or draw your signature.
Click Add to place the signature on the document. Then you can move it around or resize.
Click done to go back to save and go back to dashboard.
If you want to invite others to sign the document click invite signers, enter their email and send invitations.
Status of the document signing will be displayed in main dashboard.
Once you get all the signatures you can export it as a PDF or email it in More menu.
The process is as simple as that! You can sign and share documents under one hood. I have tested this with .docx, .pdf and .jpg files types. It doesn't work for .xlsx format. If you want to get Excel files signed, first you should convert them to PDF and then upload.
Use this application to make your document workflow efficient. To use this in enterprise level you have to purchase the service with entire set of features.
Try SignNow and join the discussion in the comment section below with your feedback.
Stay connected!
Tags: #Online Tools #Share