Google Book Search is a specialized search engine provided by Google. This is searching given keyword inside the books which are published as "Real paper Books". And this is like simulations of a traditional real life book store where uses can browse for books, read a little bit and purchase them if you like it.
Access
To locate Google Book Search you can go to main navigation bar in Google home page. After you get a search result you can change it to a book search too. After all you can Google for Book search too.
Layout
Bookshelf
This is a newly added feature in to Google Book Search. In there you can bookmark and organize the books you reading. For that there is a link named "My Library" at the top right corner of the main page. There you can categorize books in to various category including Favorites, Reading now, To read, Have read and, Reviewed. There is a button to create a new book shelf as well. Using that you can have multiple book shelves and it help you to organize your books in a better way.
Browse Subjects
This section located at the left column of the page. This helps users to narrow down their search in to a specific category.
My Library
This is a Graphical representation of your book shelves. You can locate this at the top of main content are of the home page.
Categories
There are various categories in the main content are and this will help user to optimize and get the exact result of the book search. You can click on the arrows displayed at the sides to view more books in each category.
Usage
You can enter a Key word in a search box and hit Search Books button to initiate a book search. The search result will contain Book which having the key word in its content. You can control the view of the search result in the left column option. In there you can choose the way you want to see books and what kind of previews you looking for.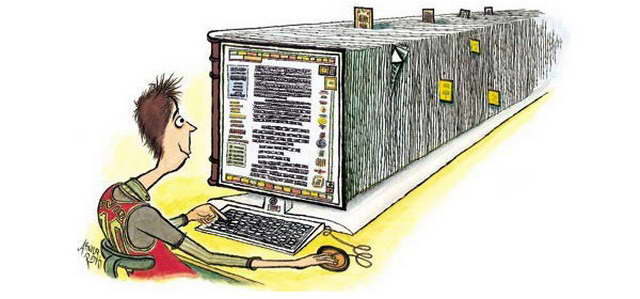 Once you click on a specific book it will take you to the page which contains all the details about the book. In there you will be able to see a preview of the book if it's allowed. In addition to that you can see rating and reviews about the book. At the left columns there will be a links to online book stores to buy a hard copy of this book.
Right below the thumbnail image of the book there will be a drop down menu to add this to your book shelf. Once you add the book will be displayed in your Book shelf view at the main page.
Advantages
In the case someone need to find about a specific content in a Book, he has to dig in to the book and read everything to find it. Sometimes index may helps, but still it will take lots of time to find the right book. With Google book search you can find the exact book and the exact page which having your desired content. Sometimes you may be able to read the book online or may be a part of it. If you really want to have a hard copy you can buy it too. In normal situation we cannot find a given word or content inside a paper book without reading everything. Google book search will make the life easier for research student, professors and many more.
Technology
The technology behind the Google book search is very simple, yet smart. As the first step the developers should scan the books and store them as a text format most probably PDF. For that they may use Optical character recognition. After that they can search a given keyword inside the PDF file. In the web page using JAVAScrip it highlights the area of the search content to make it easier for the user. According to the preview access user will be able to read the book online as well.
Google Book Search API
You can add your own Book search in your web site. For that Google Code provides all the instruction and technology. Click Here to read more about Google Book search API. Using this you can embed a book preview to your web site or add a custom search.
References
(n.d.). Retrieved January 2010, from Newyorker.com: http://www.newyorker.com/images/2007/02/05/p465/070205_r15903_p465.jpg
« Previous Article
Next Article »





Our Suggestions
Featured in Home
Filled under Internet
Tagged with Book, Google, Search