Internet applications are getting developed day by day with lots of innovative technologies. Today they are having unbelievable features as powerful as desktop application. Due to that most of the people are using Rich Internet Applications instead of installed desktop applications. You also must be using those may be without knowing. The best example is Gmail or Yahoo Mail.
But, still we are running those advanced applications in conventional browsers. They are not capable of utilizing the maximum power of rich internet applications since they are developed for "Web Sites". When I was looking for a solution to run rich internet applications smoothly, I came across with Mozilla Prism platform.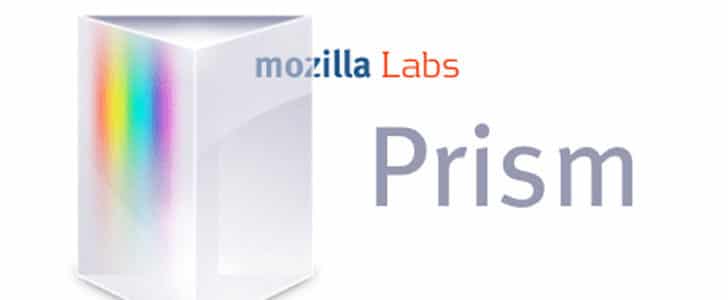 Mozilla Prism is capable of turning any rich Internet applications in to a desktop like application. After using Prism, you will have an icon for internet application and by double clicking on it you can open it like any other desktop application.
Additionally it will provide you a specialized and optimized platform to run rich internet applications. It won't be having most of the features in browsers like plug-ins and bookmark tool bars. Instead, Prism is totally focused on HTML, CSS and JS rendering engine which will give you a speedy Rich internet application experience like never before.
History
This project was initially named as WebRunner which was developed by Mozilla Lab. Then it name was changed in to Mozilla Prism which is currently using. Regardless of the success of this project, it went inactive back in 2010 November.
Mozilla Labs stopped developing Prism back in 2011 February. The current version we can download is released back then. However, this product is working just fine with lots of web applications.
Setup And Configuration
Standalone Application
The most recommended version of Mozilla Prism is its standalone version. It's having cross platform compatibility as well. Click here to download it.
Follow the below steps to convert a Rich internet application to desktop applications after downloading.
Unzip downloaded Mozilla Prism folder and move it to a know hard dick location
Run "Prism.exe" in that folder
It will give you below window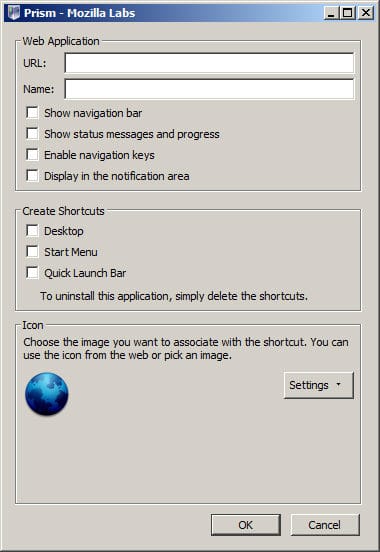 Enter the URL and name of the Rich internet application that you need to run with Mozilla Prism
If it's not a total rich internet application such as YouTube tick show navigation bar. It will help you to travel through different pages. If its total rich internet application such as Gmail you won't need this.
Same as previous point check or un-check "Show status message and progress" and "Enable navigation keys"
If you want your application to be displayed in notification area, check it. This will be helpful to display pop up notification for the applications such as Gmail.
Check what sort of shortcuts you need to create for this application.
Select and Icon. If you won't select Mozilla Prism will use web applications favicon.
Then you will be able to open the rich internet application by double clicking the icon you just created in an environment which is totally deducted for subjected application. This is called "Site Specific Browsing"
Below screenshot is YouTube which is converted to Prism Application.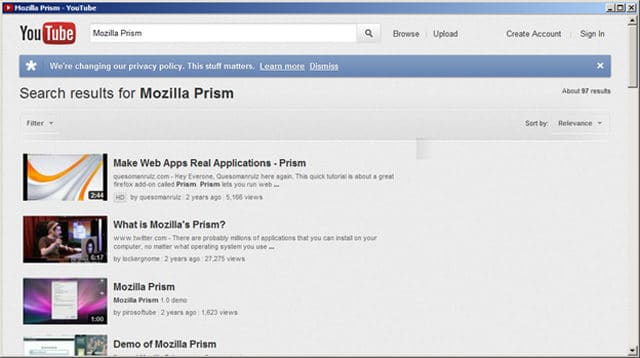 There I have not included navigation bar, status message and progress. Therefore I'm getting this plain window to run YouTube.
You can apply this in to any internet application. When I was opening StumbleUpon in Prism I included Navigation bar, status messages and progress. Using that I can clearly see whether page is loading and easily go back to previous stumbled page.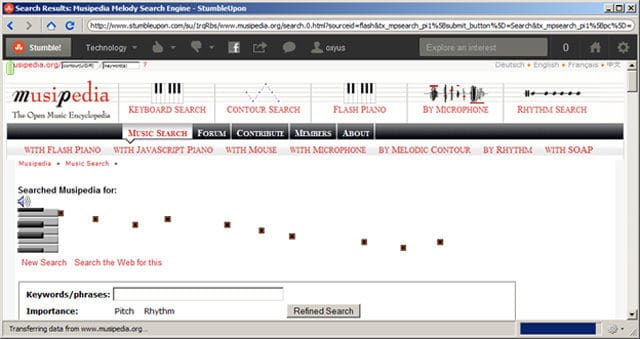 Firefox Plug-in
There is a Firefox plug in for Mozilla Prism. Using that you can convert currently browsing web application to desktop application. However there could be incompatibility issues with latest version of Firefox. If you manage to install the plug in you can follow below steps to create a desktop application for a web application.
Go to web application which you want to convert to desktop application
Go to Tools-> Convert website to application
It will open the window same as standalone application
Then follow the same steps as standalone Mozilla Prism
What is Good about Prism
Desktop-Web Experience
The best thing about Mozilla Prism is Site specific Browsing experience. In other words, window opens only one web application. Since you can create desktop icons it's very easy to launch the application. Other than that you can include this icon in windows start up. Then once you boot up your computer, the application also will be automatically opened.
Simply you can forget that you are using internet applications.
For Non Technical People
Above features will be very useful for non web savvy people, yet who have to use rich internet applications. The system administrator can create icons for frequently used web applications, and then users can simply open them by double clicking with no hassle.
Other than that users won't be exposed to other features in web browsers. Hence they will be able to get their work done in a less complicated way. This will work well for online email applications.
Performance
Since web application is running in an application specific browser, it will be having dedicated resource allocation. Of course this will improve the speed of application operations. Other than that prism engine doesn't have default browser features such as tool bars and plug-ins. This also will improve the performance.
Browser Integration
It's true that you are opening web application outside your default browser. But you will require opening some links in browser. You can do it simply by clicking on the link in Prism window. It will automatically open the content in default browser.
Future Development
Since application development is discontinued by Mozilla Labs, future of this platform is uncertain. However, I could not find a better alternative to this platform. True that you can use Chrome Application, yet it's not totally running on a sand box model like Mozilla Prism. I hope Mozilla Lab will re open this project or come up with better platform for Rich Internet Application, which is the future of WWW.
Tags: #Mozilla #Rich Internet Applications