Power management in your android phone is one of the major challenges you will face. Most of them are having super power multi core CPUs and large display with HD resolution. All together will drain its battery within less than one day. Previously I was talking about few android power management techniques using apps as well as using manual power controls and common sense.
Quick Catch-up
Today I'm going to introduce you an Android power management widget. This will give you more space for customization and more switches than previous powerful control widget. This widget is Power Controls and you can download it at Google Play for free.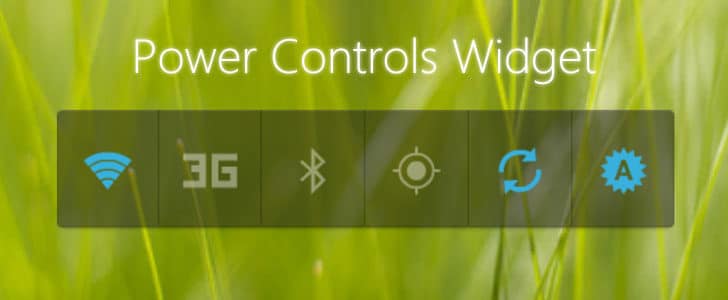 Android Power Management with Power Control Widget
After installation you will be able to see power control icon in one of your home screen. Through that you can control behavior of widget. Same as Powerful control you can place the widget in home screen as well as in notification tray.
How to Use Home Screen Widget?
Go to Application drawer -> Widget.
There you will be able to find power control widget. Drag and drop it in to one of your home screen.
It will give you the customization windows.
By tapping on widget button you can move it around using the slider or delete it by pressing the delete icon.
You can set background tint and set button color down there.
By pressing add toggle you can add new buttons to widget.
There you have wide array of options going beyond traditional power control switches. You can add multimedia options and you can even add an app shortcut.
One widget support up to 8 buttons and you are free to add several widgets.
In power control app you can find icon to customize home screen widgets. There you can customize widgets even after adding them to home screen.
How to Use Notification Tray Widget?
Go to power control app.
There you can see a large button for notification widget. Check it in to enable.
Press the settings button. There you customize it and it will work same as home screen widget.
There you can select Notification icon as well as its color
This is a pretty neat widget which will give you lots of UI customizations as well as wide options of buttons. You may like to replace Powerful control with this new widget Power Control for Android power management like a Boss. Never forget to share your experience here with us.
Tags: #Android