Did you ever have a requirement for a video alarm system, maybe to protect your backyard from intruders? Even if you want such a system definitely you have to spend a lot to setup. You will have to buy a video camera, route it to a separate video recording and monitoring device, a monitor to check the video log, siren etc.
When I was stumbling across WWW I saw this amazing service named "Cammster". It allows you to set up a video alarm system just with your Webcam which you normally use for video calling. The best part is, basic version of this service comes for free. There you will also be able to find stylish features that normally don't come with conventional systems such as Email notification with a snapshot and SMS alert.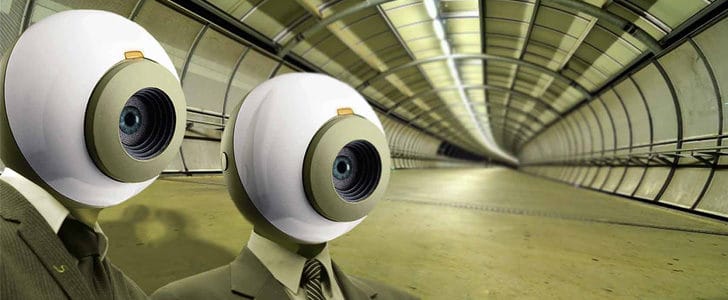 Let's take a closer look at this service.
Setup an Account
Before you start using Cammster you have to register yourself in the website. For that, follow the below steps.
Go to Cammster
Click on Register button at top right corner of the page
Enter your email address as the username and desired password to log in to account. (Use a Strong password)
Then they will send you a confirmation email to the given address
Click on the confirmation link in email
It will conform your registration and log you in automatically
Go back to home
Now you have successfully created your account and logged in. Then you have to set up the webcam.
Start Motion Detecting
Make sure you have correctly plugged in your webcam to your computer and installed it. If there is any other application running which is using the same webcam, such as Skype, better to shut them down. Now you are good to go.
Go to Cammster home (you are already logged in)
Hit the button with label "Run cammster now".
It'll open a page with the motion detector and a webcam video feed will be displayed there.
If you can see video feed correctly, you are in good shape.
Aim the webcam to the desired area. (This doesn't work good under low light conditions)
If your video feed is not appearing, hit the button "Change webcam" and select the right one.
Then set the "Detector sensitivity". This is very important. If there is a motion in video feed which exceed the given value, Cammster will generate an alert. Set it very carefully. Of course this will require lots of experiment.
If you already have some motion in the video feed, it will be reflected in the slider. There you can get some idea to set it properly.
There is a check box labeled "Play siren". If you check that Cammster will play a siren when a motion is detected.

Now it's all ready. Click on the slider if you want to start Cammster within 10 seconds or you can slide it to right to increase the starting lead time.

Once a motion is detected in the video feed which exceed the previously given value, Cammster will sound the siren if it's checked.
All the generated alerts will be saved in "Alerts" section which you can find at the top right corner of the page. There you can find entire details of the event including time and snapshot.
If you have enabled email notification, you will get an email with snapshots of the event as shown below.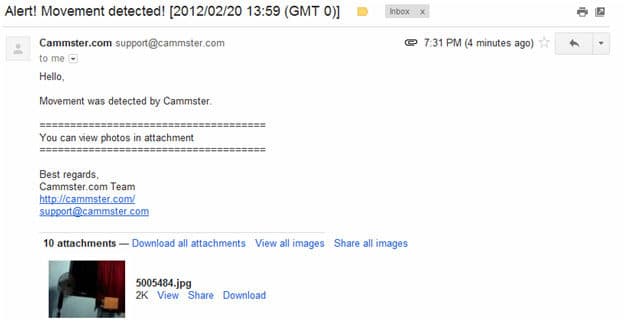 Special Tips
When you to go Alerts section, there you can see RapidShare and DropBox in addition to email. I tried it out with DropBox. Once you do that it will automatically create a folder named "Cammster" in your Dropbox folder. All the images from alerts will be automatically synchronized to that folder. However I could not check it with RapidShare, guess it work the same way.
If you want to schedule a motion detecting session, go to settings -> Schedules. There you can set different types of scheduled sessions. In order to make this work, you have to keep the computer and aim the web cam to the right place till the scheduled time comes. If you are seriously in to this, have a separate computer and webcam.
If you need SMS alert other than email notification, you have purchase the service from here.
Note to Developers
You have come up with a classy product, but still it's sort of buggy. Here I have listed down the bugs I found. Hope this will help you with further improvements of this amazing service.
When I start using Cammster, alerts were working just fine. But after sometime when I go to alert page even after getting an alert it was empty. Finally they came after an unusually longer time. Faced the same issue with email notifications.
I tried setting up DropBox sync. It created the folder "Cammster" in my DropBox, but images in the alert didn't got synchronized in a timely manner.
When I try to delete an alert, it prompts for password. There you have forgotten password mask.
Not a bug, but if you can give us some space to record the entire session, it will turn this in to a super class video surveillance system.
All in all, this is a great service that comes for free yet gives a sophisticated solution for video alarm requirements. If you have a small store and you need video alarm system over night, here is the service for you. Most probably you already have the required hardware. Same as that Cammster can provide small scale video alarm solution for any one. Hope you will try out the service and share your experience with us.
Tags: #Online Tools #Webcam