If you are reading news probably you must have noticed updates about this new website Pinterest. According to the Alexa, its traffic rank is 73. It seems like Pinterest has come a long way in a very short period of time.
In order to find more about Pinterest I created an account for myself and stumbled through that. Same as any other social network, Pinterest also taking one of your real life's experiences online.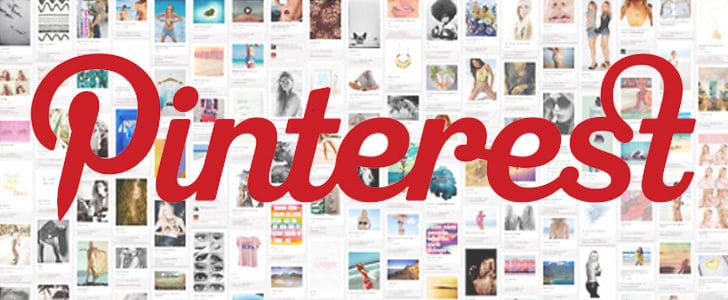 If you are the person who's usually maintaining a pin board in your room, you will know what Pinterest is about. It's an online Pin-board where you can pin images and videos of your interest. There you can maintain several pin boards with different topics. And it goes social. Your followers get updates about your latest pins and you also can follow interesting users or specific pin boards of them.
How to Use Pinterest?
Getting Started
Go to Pinterest.
First you have to create an account. However it's not totally open to public yet. So you have to Request for an invitation.

If you know a friend already on Pinterest, you can ask him/her to send an invitation.
Once you get the invitation the easiest way to login is by using your existing Twitter of Facebook account. In the login screen you will be able to see buttons for both.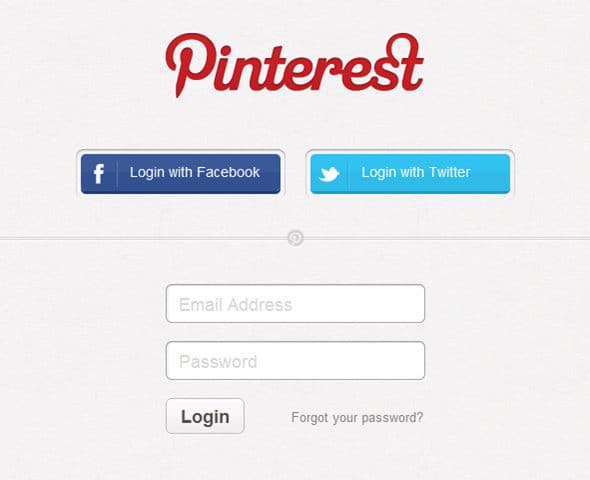 Once you login, it will take you to your profile page. You will see there are several default Pin boards on your account already.
Below every pin board you can see Edit Button. Using that you can change the basic properties of Pin board such as title, description, who can pin, category etc. If you don't want this Pin board anymore, you can delete it as well.
By clicking on Add button in main menu bar at the top, you can create a new Board.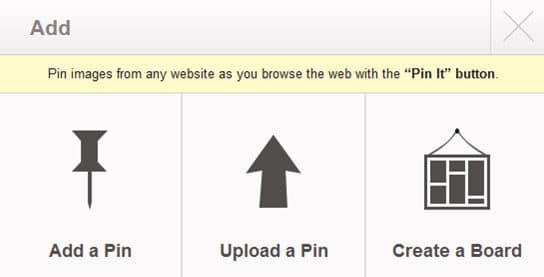 After pressing the button "Rearrange Board" you can drag and drop to organize the order of board the way you want.
Create few Pin boards with nice titles and organize them as you want.
Edit Profile
Go to Edit profile. You can find this right under your profile image in profile page.
There you can change your details such as Email, Password, Name, Username, About, Location, Website etc.
You can upload a Profile photo or get it from Facebook or Twitter.
In the section Notification, change email notification settings the way you want.
There you have option to Delete the account as well.
Social Integration
Pinterest is having social integration with Facebook and twitter. Once you enable it all your pins will go to Facebook and Twitter timelines as updates. Follow the below steps to enable integration.
Go to Edit profile.
In section Facebook, switch on Link to Facebook and Add Pinterest to Facebook timeline.
In section twitter switch on Link to twitter.

Now all your pins in Pinterest will go on Facebook and Twitter as updates.
You can switch this off anytime.
Connect
In building connections Pinterest work same as Twitter.
Anyone can follow your or one of your Pin Boards.
Once you follow someone his updates will be reflected in your home page.
Once someone follows you an Email notification will be generated. (By default)
Then you can follow him back as well.
If you need to build likeminded friends' network all you have to do is follow them. Then probably they will follow you back as well. Exactly same as Twitter.
Pinning Content
You can directly upload an image to Pinterest by pressing Add Button.
In the same window you can add a URL as well. Pinterest will automatically find images in the page for you. Then you can select which image to be pinned.
Once you select the image you will get the below pop up.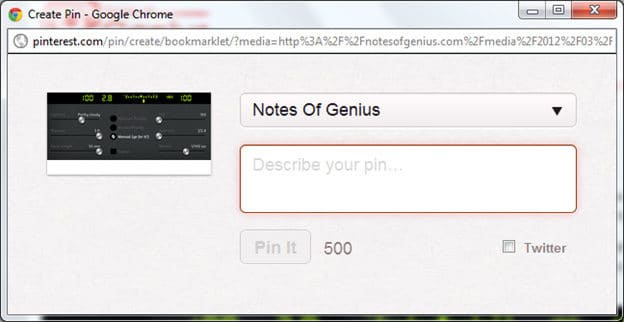 There you can select the pin board, description (this is mandatory), whether you need to publish this on Twitter, then click Pin it.
There is a Pinterest Bookmarklet which allows you to pin images easily. Drag and Drop This to your bookmark toolbar. Once you come across with a good image which you need to pin, all you have to do is click on the bookmarklet. It will filter out all the images in the page for you to pin.
If you come to know interesting Pins on your home page you can Re-pin them on your board, Like them or Comment on them.
Once you open a Pin and click on the image it will take you to Original source. This is a good way to generate Referral traffic from Pinterest.
If you have lots of interesting Pins you will get more followers.
Android/iPad Application
If you want to use Pinterest on your android tablet or Smartphone There are various applications in Android market. Pin to Pinterest is the one with most number of positive reviews.
If you have a iPad 2 you also can install Pinterest application Here. They all come for free.
Enjoy Pinterest, develop your network and share your experience with us. The next part of this article will come soon as "How to get referral traffic from Pinterest".
Tags: #Pinterest #Social Networks