LinkedIn, a professional network with over 170 million users across the globe, is one of the best social networking platforms ever. But when it comes to B2B marketing, there are many marketers who are still unaware of how to use LinkedIn – the best marketing tool effectively. Since years, LinkedIn has been a very good opportunity to marketers for generating B2B leads. Well, more than an opportunity, LinkedIn is now a commanding source for generating B2B leads, increasing thought leadership, building awareness and nurturing relationships with customers as well as clients. And now, here I have listed a few tips on how to use LinkedIn platform for B2B marketing.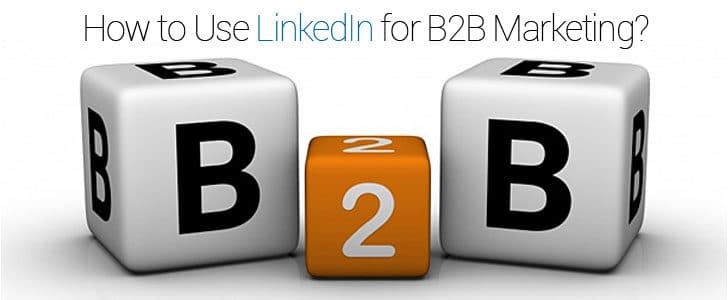 Creating a LinkedIn Business Page
Just having a website will never get you potential customers. Do remember, your website is one amongst the millions, billions and trillions of websites available on the World Wide Web. You have to create company pages on social networking sites and be active on these sites to generate leads. So, create a company page on LinkedIn that can help you connect with your clients, customers and also help you increase your exposure and ranking in the search engines. When you create a company page, you can build tabs for sections like products & services, company overview, careers, etc. You can even create a section for company blogs and engage your followers. Concentrate on keyword phrases while creating your company page, so that your company page can be optimized.
Participate in LinkedIn Groups
Over 100 million LinkedIn professionals are actively participating on discussions, every now and then. Try joining groups and get exposed to the millions of members. But keep in mind; you are not selling your product on these discussions. So just give advice and guidance, respond to questions, start discussions and be an active professional on LinkedIn. You can also build your group and invite the other LinkedIn users to join your group. It's good to have your group, open to all, rather than having it only for your members. For a bit more of SEO, try starting a discussion based on a particular keyword. This will have a great effect on your search engine rankings.
LinkedIn Polls
It's the best way to have your millions of followers engaged. Try asking thought provoking questions related to your business or products, and learn how your customers and clients react to your business. LinkedIn can be the best for polls as whenever you start a poll, the question spreads across your network connections immediately. Furthermore, you can even have a voting module on your website, to convert your leads into followers and customers. And when your poll is complete, start discussions based on the poll results on your groups. You can also write posts based on the poll results, post it on your company blog and share it on LinkedIn, Facebook and Twitter.
Connect with Twitter and Facebook
Try interconnecting your company pages. You get to drive humongous traffic by connecting your LinkedIn page with Facebook and Twitter. There's also a high chance for your customer base to increase. After connecting, whenever you update your company blog, ensure that you share it on all the company pages.
Next, you can try incorporating LinkedIn presentation applications, conduct webinars and promote events on your LinkedIn company page as a B2B marketing practice. Well, it's all about B2B marketing, attracting more and more audience, and turning them into customers to make huge profits.
About The Guest Writer
This is a guest post brought to you by Samantha Kirk, a writer for Verizon Fios Deals. Samantha provides up to date content and information for FIOS bundles, TV, internet, digital voice and other deals.
Tags: #Social Networks