Every day you will have to convert files into many formats. If you are submitting a resume it has to be on PDF format. But you created it on Microsoft word. Or suppose your friend needs a photo of moon that you captured to create a graphic. You shoot NEF and converted to JPEG on camera. But you friend needs a BMP.
You can continue endless list of file conversion requirements.  If you are in front of your computer you won't run in to a trouble since you have all the software in it. But you are away from your beloved companion. Now What? How to convert a file? All you have around is some strange computer which doesn't have any good software but good broadband connection. It's cool if you have an online file conversion application in such a case.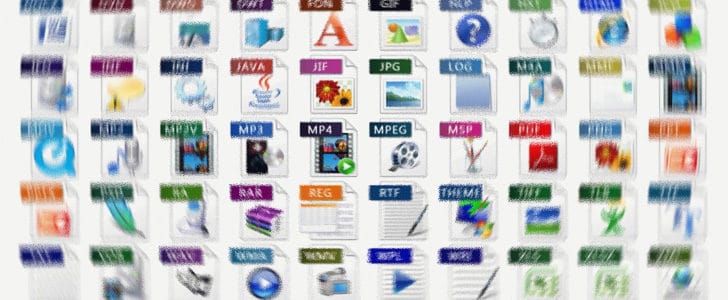 And yes, there are lots of online file converters, but none work with all the common file types. When I was stumbling across the WWW I came to know the web site named Online-Convert.com. Domain name didn't look so nice but what it does is amazing.
What Type of File Conversion it Support?
Online-Convert.com supports almost all of the common file formats. Once you visit its home page you will be able to see 9 categories.
Audio Converter
Video Converter
Image Converter
Document Converter
Ebook Converter
Archive Converter
Hash Generator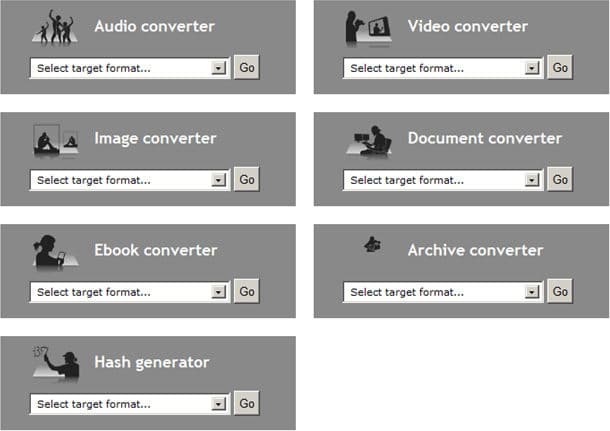 In each category you can see a drop down menu. There you can find related file formats you can get as output. This accepts large variety of formats as inputs. In case it can't identify the input file format, you will get an error message.
In addition to converting files between formats, it can enhance the file as well using various effects and filters, especially when it comes to video, audio and images. In the section of eBook you will be able to see that this application is capable of converting files for different eBook readers as well.
The last two sections are very special. Archive section let you convert files between different compressed formats. This comes in handy when you don't have winRAR installed in your computer.
Hash generator is generally used to compare files before they transfer through networks. Using this you can easily generate hash code for your files. I have never seen these facilities in any other online file convertor.
How to Convert a File using Online-Convert.com?
Go to Online-Convert.com.
Identify the section and select the target file format from the drop down menu.
There you can see a button to upload file from your computer.
If your file is available online you can give the URL to the next text box.

If selected file type supports enhancement, they will appear as Optional settings. Set them as appropriate.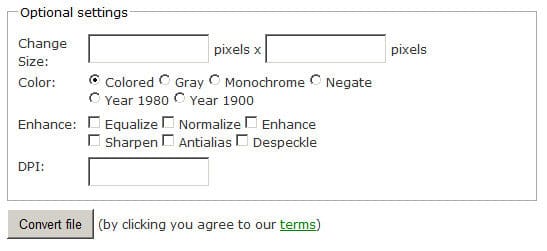 Finally click on Convert File.
It will take some time depending on the size and nature of the uploaded file to get it converted.
Once the conversion completed, converted file get downloaded automatically.
It will prompt you to save the file. Give a desired location and complete the download process.
Is Your Files Safe With Online-Convert.com?
When you converting your files online with Online-Convert.com you have to upload the original file which may contain your sensitive information to their servers. Is this safe? According to their privacy policy they never look in to your files without permission. And their system automatically deletes the file after 10 download or 24 hours whichever comes first.
However it always better not to upload your very sensitive data to any online service as an extra safety measure.
Final Wrap Up
Online-Convert.com is a smart online file conversion tool which comes for totally free. For any quick conversion this will work perfectly. However if you are dealing with huge files this is not the tool for you. It accepts only up to 100 MB and even if it accepts it will take long time for you to upload and after conversion download the file.
I tried different file formats and they worked just fine. Especially I tried to convert .rar file to a .zip file, then open it with windows explorer. That also worked perfectly. Further I tried few image enhancements and got decent outcome as well. With all my experiments I recommend Online-Convert.com as a reliable dependable online file converter.
Tags: #Converter