In the early time of Smartphone competition there were only two major players, Apple and HTC. At that time Apple managed to lead the game with their iPhone while HTC also held a significant market share. For a long time iPhone was the major attraction in the Smartphone world and everyone were talking about the amazing features they offer, specially the smooth touch screen. But after sometime HTC also started moving fast ahead with the power of Android mobile OS while many other companies came in to the show with lots of competitive Smartphones.
In the year 2011, lots of attractive Smartphones came to the market mainly HTC's Desire, LG's Optimus 2X and 3D, Apples iPhone 4S and Samsung's Galaxy S 2. If you take a closer look in to these phones you will see that early market leaders like Apple and HTC are going to be defeated by the new comers like LG and Samsung with the amazing features they offer. Out of all these competitors Samsung Galaxy S 2 stands tall due to very sharp features that it comes with.

Why It Became The Best?
Design
The major attraction of the Samsung Galaxy S 2 is its amazing design. It's simple and usable single block. The rear panel gives good grip to the device while smooth front panel give you amazing touch screen experience. The built is pretty solid and appears to be durable. When it comes to dimension, it's very thinner (only 8.5mm) than many other competitors, yet larger in width and height of course to accommodate huge display. Even if you consider the weight, its way lighter (Only 116g) than most of other same level competitors. In front panel every component is placed in scientific manner, well proportionately. Touch buttons are highlighted by a backlight which is very smooth design. Proximity sensor and the front camera are also carefully integrated with the design. If you take a look at the rear panel, camera and LED flash is seamlessly integrated with design in much protective way.

Operating System
Another major contributing factor the Galaxy S 2 to become the best is its Android Mobile OS. It comes with the version 2.3, Gingerbread. Since its open source, Samsung has developed its own version to go with the device and its features. The popular Samsung TouchWiz UI comes with this device as well. Android has recently developed another version named 'Ice Cream Sandwich' which is also going to come for Samsung Galaxy S 2, though the time frame for that is not yet specified.
TouchWiz UI
Hardware
The hardware that comes with Galaxy S 2 is totally unbeatable, by any Smartphone available. It's having Cortex A9 1.2 GHz dual core processor, 1 GB RAM, 16/32 GB internal memory which turns it in to a super fast mobile device. This enables fast internet browsing, data connectivity and gaming as well. Built in Accelerometer, Gyroscope and proximity sensor enhance the gaming experience even more. As a standard feature of any Smartphone it comes with a built in compass and GPS-A device. There is a 3.5 mm audio out and micro USB device which also could act as HDMI out. Phone comes with plenty of storage, yet if you need more storage there is a microSD slot card which support up to 32GB.
Display
Galaxy S 2 is having 480 X 800 pixels 4.3 inch display with pixel density of 217 pixels per inch which is pretty much standard. But it's a Super AMOLED display which gives you contrasting colors with 16 million colors.  This display is good enough for general operations, web browsing and gaming as well. It's coming with multi touch sensitivity again pretty much standard for any Smartphone. Display is covered with a denser glass called Gorilla glass to protect the display from scratches.
If you take a look at the battery usage of Samsung Galaxy S 2, talk time, standby time etc, you will be amazed by those figures compared to other Smartphones. The major contributing factor for this is its display which is specially designed to save battery life while delivering an excellent user experience.
Camera
The image quality of Samsung Smartphones was always good and it's going to be the same with Galaxy S 2 since it's coming with 8 Mega pixels camera. The camera is accompanied with a LED flash which allows you to take photographs in low light. However single LED flash is way not enough for dark photography. The camera provides you touch to focus auto focusing system, face recognition and image stabilization. Other than still imaging it support 1080p full HD videos at 30 fps which turn your Smartphone in to a professional quality camcorder.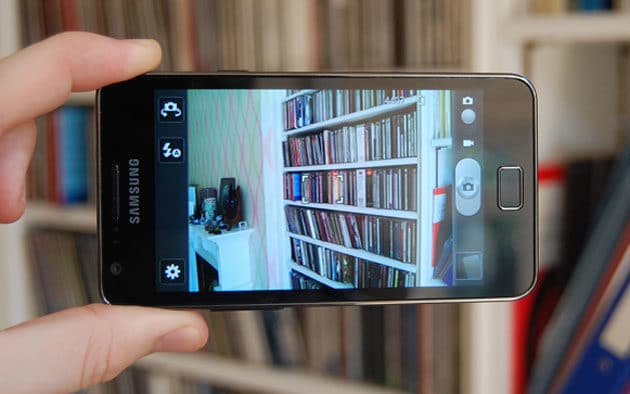 If you consider the front facing camera, which is there for video conferencing, is also having 2 Mega pixels. It's a way good figure compared to other phones and of course you can use this camera as a digital mirror as well.
Web Browsing
Another major usage of Smartphone is web browsing on the go. Samsung Galaxy S 2 provide excellent platform for you to browse web with the power of Android Platform and high speed data connectivity. Galaxy S 2 supports up to 42.2 mbps HSDPA connectivity. Additionally it comes with built in Wi-Fi to connect to internet in hotspots. Therefore you can surf through the fastest possible way on this earth. Other than that controller in the browser is very user-friendly, especially when it comes to scrolling down, Zooming in/out and open another browser window.
Apple iPhone never had a browser that supports Adobe Flash player which was a major disadvantage of that device. Further it never supported JAVA applications as well. Samsung Galaxy S 2 is having both these advantages which give more flexibility to the users.
Conclusion
Samsung Galaxy S 2 Smartphone has most of the advanced features among all the Smartphones that came in year 2011. If I think about what I wish to be there is, more sharp screen with high resolution and greater pixel per inch like iPhone 4S. Other than that I wish it comes with 3D display like HTC Evo 3D or LG Optimus 3D. Apart from that in other aspects it tops the list. Especially the processing power, huge RAM and storage, super bright display, thinner design, excellent battery life and multimedia capabilities obviously make Samsung Galaxy S 2 the best Smartphone that was introduced to market in year 2011.
Tags: #Android #Samsung #Smartphone